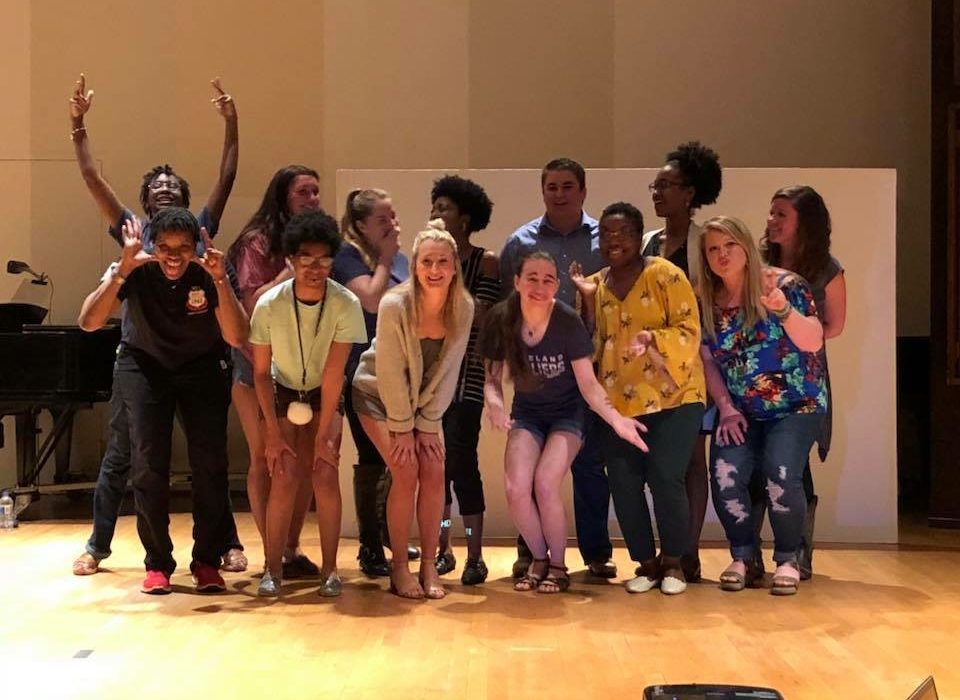 This Spring, I had the pleasure of filling some really big shoes. A colleague and one of the nicest people I know, Producer Betsy Newman, was stepping down from her teaching position at Columbia College – a historically liberal arts women's college here in Columbia, SC. She was looking for someone with experience in teaching and producing film to takeover her film classes. I was immediately intrigued, because I grew up not too far from the school; a nappy headed kid from a tough neighborhood called Ridgewood. How cool would it be to not just advocate for my community, but to also contribute to one of it's nearby institutions? But it wasn't until I met Dr. Nancy Tuten, the chair of the Communication, Language and Literature department, that I accepted the position – and here is why.
For close readers (pun-intended), you may have immediately noticed something a bit unusual: a film class in the communication, language and literature department? Usually on college campuses around the world, film and video classes are housed under either an Art or Media Art Department. Occasionally, one will find the film theory or film history classes tucked somewhere in an English or History Department. However, my years of working in moving image literacy has taught me what I now know to be true: the best way to teach film and video IS to teach it as a language FIRST. Let me elaborate.
Victory: the achievement of mastery or success in a struggle or endeavor against odds or difficulties. (Merriam-Webster)
Film is, in itself, a form of communication. It is the very reason why it is taught as a part of Media Literacy Education. Because literacy is the ability to read and write, any organization that teaches film or video and doesn't teach how to read and write with film, is failing its students. The ultimate goal when teaching, is to help students' get to a point of understanding. Once they understand, they win – that is a victory. Teaching 'use' only is setting a student up to lose. It is the equivalent of teaching a student how to USE a hammer and nail, when they came to learn how to build a house. There is a giant leap between learning how to hang a picture and learning how to turn pieces of wood into a livable structure.
Columbia College was interested in teaching their students how to communicate with video, FIRST. The class, WRIT 350: Introduction to Narrative with Digital Video, begins with learning the language of film. From the first day of class we ask questions such as: What are the 5 rules of Media Literacy? How do filmmakers use composition to communicate a message? What does that mean? How can that help me READ film? How can it help me WRITE my own messages?
Of my small class of thirteen students, only two of them had prior video experience – and that was in high school. Many of my students struggled in the very beginning, because quite frankly, they had never been introduced to the concept of understanding how to read and write using film or video. In other words, they had not yet tasted victory in learning video. Yet as the semester continued, I saw what I have seen time and again with this extremely effective approach – they were learning to be better communicators. This became obvious at our final class screening. Each student debuted their 3-5 minute documentary to 75 attendees in the Spears Concert Hall on campus, to an incredulous audience who couldn't believe they accomplished so much in so little time. In the talkback after the screening, students commented on how they began to ask themselves questions like "What am I trying to say?" and "What question am I trying to answer?" when setting up a shot or re-doing an edit. These were questions they were never taught to ask before when learning video. These are the questions that you ask when learning to communicate. It was exactly by asking those types of questions that allowed them to have films that transmitted their ideas and messages more clearly.
It was odd to me to hear so many students, staff and audience members thank me for the methods I used when teaching the class and the approach I took in explaining film as a language. Mainly because, I didn't do ANY of the work! I only presented film in the same manner as the father of media literacy John Culkin suggests,
"…the study of media, accompanied by the hands-on involvement, leads to creativity, critical thinking, heightened motivation toward school work and a habit of experimentation and play that can lead to all sorts of discoveries." (Moody, The Children of Telstar, 1993)
This spring at Columbia College my intention was for my students to learn how to read and write a new language, i.e. the language of film. Students came to class with basic fundamentals for how to use a video camera, but they did not know that the camera uses its own language, and how understanding that language could make them better communicators. Students discovered a new process that not only taught them new skills, but also improved their ability to communicate. And that is a victory.
Interested in watching the 13 short docs that my students wrote, filmed, and edited all by themselves? Check out their youtube channel HERE.